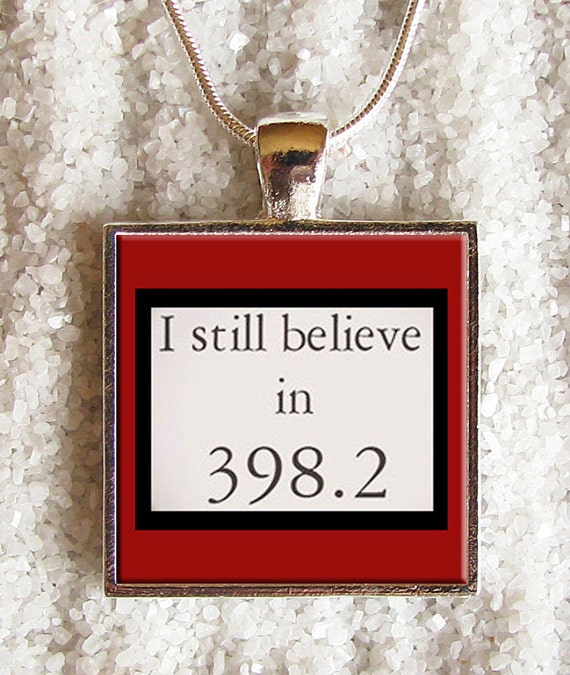 While browsing around Etsy the other day, I stumbled upon a necklace that bore these words: "I still believe in 398.2." Naturally, having no idea what this meant, I immediately opened up a new tab and Googled it.
Now, "I still believe in 398.2" is one of my favorite sayings. It ranks just under "Live like there's no midnight," a Cinderella reference that I partially credit for both the name of this blog and a key scene in Desperately Ever After. The number 398.2 corresponds to the folktales, fairytales, and fables section of the library. Thank you, Dewey Decimal.*
The pendant above, offered by Newartpendants, is just one of many iterations of this saying. Check out more offerings here. Perhaps you deserve an end-of-summer treat?
*Yes, I know the founder of this system was Melvil Dewey, not Dewey Decimal. But the latter sounds so much more fun 😉
STILL BELIEVE IN FAIRY TALES?
Check out the
Amazon #1 bestselling

Desperately Ever After series
One part

Sex and the City




Two parts

Desperate Housewives




Three parts Brothers Grimm



"Laura Kenyon makes happily ever after desperately delicious!"
~ New York Times bestselling author Stephanie Evanovich
"If you are looking for a fun and gossipy story to satisfy the holes left when Sex and the City and Desperate Housewives had their series finales (or even if you're going through Once Upon a Time withdrawal come season finale time) look no further than Desperately Ever After."
~ Chick Lit Central
"At times laugh-out-loud funny, and at times very touching, Desperately Ever After is the debut of a real talent."
~ Elizabeth Blackwell, author of While Beauty Slept
"An explosive cocktail that will have you laughing out loud and wanting more and more!"
~ Lost in Chick Lit
Have you ever wondered how Cinderella would feel 10 years down the road, when her iconic ball gown no longer fit and she had four kids, a billion royal duties, and a husband who was never ever around? Or how long it would take "Beast" to return to his old, wolfish ways after Belle broke his curse? Or what kind of man finds a comatose woman in the woods and decides to kiss her?
Set in a fictional realm based on New York City, the Desperately Ever After series takes a whimsical look at our most beloved fairy tale princesses several years after true love's kiss. With laughter, wine, and a new take on old-fashioned chivalry, these friends see each other through life's trials one secret at a time.
From infidelity to aging. From deferred dreams, lost loves, and the pressures of family life. The books are about a group of ordinary women coming to terms with how their lives have turned out. They just happen to live in castles.